Contest Ini Blog Saya By Dato, Mai and Ilyana

GongChan ! Imissyou why tak text kite . haha
\poyo+berangan/
hihi , okey awak nampak title kita masa ini ? iyea hari ini kita nak Join Contest . Contest lagi ? Ehh tak salah ken ? siapa membantah ? cakapp cepadd ! nak ajakk dia Join sekali nihh . muhehehe . okey kite nak Join Contest yang Bertajuk

Contest Ini Blog Saya By Dato, Mai and Ilyana

. okeyy macam biasa kite akan ckp pasal Rules tentang Contest ini .
Rules Of Contest
.
[ ALL Have DONE ]
- Buat Entry andd Letak Banner
- Kurang 15orang . Contest Terbatal .
Tentang Contest
- awak Ceritakan
tentang BLOG korang
andd Why
korang sayang BLOG korang
yang awesome comelcomel tuh tau .
Okey Jom Kita Mulakan setelah Tahu SyaratSyarat nya .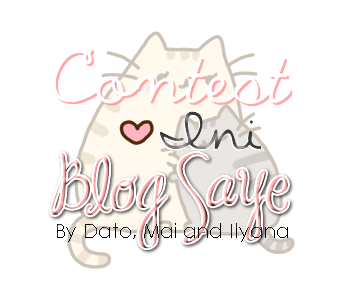 Okey

Why alja sayang Blog alja nihh iyea ?

macam nihh :
Sebab dia PINK . Sudah Tentu lha . haha :>

ada FOLLOWER andd BlogWalking yang Baik andd ComelComel

Dapat membantu Blogger Lain dengan TUTO andd FREEBIES

Okey alja ada sediakan sedikit TUTO untuk Korang

alja ada Sediakan FREEBIES untuk korang supaya korang lagi ceria

Dapat sediakan tipsTips berguna untuk korang

*

mungkin

Ada Cerita Best

*

mungkin

ada Tips pasal Do andd Don't dalam Berbloging
ada SOMETHING untuk Korang

Insyallah

Dapat LUAH ken Perasaan yang Orang laen dpd membantu Sekali

dapad Cerita pasal Harihari yang telah berlaku pada alja

dapat kenal ken korang dengan ILoveYou Guys . haha

Korang juga akan dpd tahu siapa alja yang SEBENAR .

alja Baik andd ceria

*

mungkin haha PERASAN
okey tuh jea lha , Cukup banyak tak ? haha Hope Enjoy dengan katakata Diatas .
Hadiah .
- SECRET Tapi 5Pemenang SAHAJA If nak tahu awak semua JOIN jom :>
OKey Thats ALL . Tuah manusia Siapa tahu kennn ? Okeyy Byebye

Exam FINISHED !

Ouh

YES . hihi :D